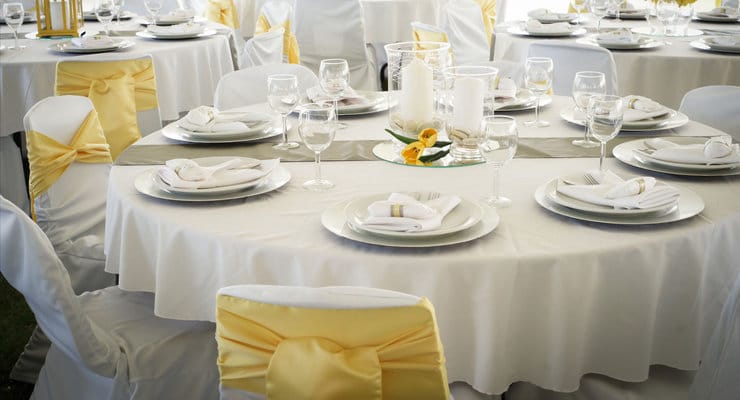 Bend Oregon Dinnerware Rentals
Find Bend Oregon dinnerware rentals including dinner plate rentals, silverware rentals, linen rentals, and more. We offer a full line of dinnerware rentals for Bend, Oregon.  We have high quality silverware, dinner plate, china, glassware, & caterware for any occasion. 
All of our dinnerware rentals come clean and ready to use. Although rentals do not need to be sanitized before being returned, we ask that they are scraped of any food particles and/or rinsed. Our rentals are top quality and we want to keep them that way! Please contact us for a free rental estimate for your next wedding, event, or party.  We also service Redmond, Lapine, Madras, Prineville, and Sisters.
Glassware:
Champagne Flute $.75/ea
Wine Glass $.75/ea
(Available in 8, 10, & 12 oz)
Water Glass $.70/ea
Beer Pilsner $.80/ea
Rocks Glass $.75/ea
Collins Glas $.75/ea
Mason Jars $.75/ea
Water Pitcher $ 6.75/ea
(Glass or Silver)
Catering Rentals:
Beverage Dispenser **See Options Below**
Chafing Dish with food pan   $25.00/ea
55 Cup Coffee Maker $25.00/ea
Chargers $2.50/ea
(Gold, Silver, & Green Glass )
Salt & Pepper Sets $1.50/set
Cream Sugar Set $1.75/set
Dinnerware:
White Round Plate $.70/ea
White Square Plate $.70/ea
French Ivory Plate $.75/ea
Blue Tin Plate $.75/ea
Platinum Rim Plate $.85/ea
Gold Rim Plate $.85/ea
Vintage Plates $.90/ea
(Collection of Antique Dinnerware)
Servingware:
Bread Basket  $2.00/ea
Serving Spoon  $2.00/ea
Serving Tongs $2.00/ea
Serving Fork $2.00/ea
Ladles $1.50/ea
Cake & Knife Servers $11/set
Medium Serving Bowl $6.50/ea
Large Serving Bowl $8.50/ea
12 Inch Serving Platter  $7.00/ea
16 Inch Serving Platter $10.50/ea
Flatware:
Anne Collection – this silverware is "18/10″, which is one of the highest quality forms of  stainless steel you can buy.  They are elegant & shiny.
Dinner Fork  $.60/ea
Salad Fork  $.60/ea
Dinner Knife  $.60/ea
Tea Spoon  $.60/ea
Steak Knife  $1.75/ea
Vintage Collection –  this is a collection of various patterns of vintage Gold & Silver silverware. $.85/ea
Victorian Silver Serving Platters
Stylish and chic, these silver serving platters are the perfect touch for an upscale wedding or event.  Available in several sizes and shapes:
Victorian Scroll Elevated Platter w/ Feet: (1 Available) $5.00
Medium Victorian Round Platter (5 Available) $4.50
Victorian Rectangular Platters Large (2 Available) $7.50
Small Victorian Platter (1 Available) $5.00
Large Victorian Round Platter (1 Available) $5.50